It's Friday once again and that means it's time to follow some people around! Not in a stalker-ish way, of course... Unless that kind of attention flatters you *scary!*
This week's sponsor is Tooth Soap!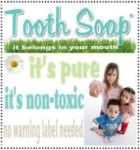 They are running a contest where you can win fantabulous cash prizes, so be sure to check out any of our carnival hosts: Rita @
One 2 Try
, Tami @
Hearts Make Families
, and Lynn @
Midday Escapades
for more details!
You can also visit them if you just wish to participate in the Friday following frenzy ;o) It's a great way to meet new friends. In fact, I invite you to be my friend! If you're following me, please do leave a comment so I can follow you back.
Have a sparkly Friday, everyone!
Cheerios!
Rach
Now on to the links... (these ladies are
faaaaaaaast
!)